Accessing Grandmaster Ah Po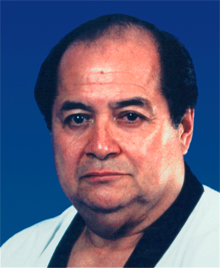 Historical Perspective
Over the past 40 years, Grandmaster Ah Po has been well known for making himself accessible and readily available worldwide to other martial artists and martial arts organizations to share his extensive knowledge, expertise and unique insights of the martial arts.
Members of the Tang Soo Do Martial Way Association, Inc. have come to recognize Grandmaster Ah Po is renowned as "a living legend" in the martial arts and is valued as such by those who wish to acquire his services to access his knowledge. Due to increasingly high demand and special requests made by those wishing to engage his services, the Tang Soo Do Martial Way Association, Inc. has appointed a personal Event Coordinator to handle all inquiries and scheduling, providing all with greater access to Grandmaster Ah Po.
The following provides information on the types of services provided, with financial arrangements and terms and conditions that we feel are reasonable in acting on his behalf, given the types of unique services he is able to provide and also the amount of time that these engagements require which invariably requires him to travel, spend time away from home, his family, his dojang and the members of our association.
Types of Services Available
As previously stated, Grandmaster Ah Po is recognized world-wide for his expertise and extensive knowledge of the martial arts, particularly Tang Soo Do. He is constantly being sought after for his technical skills and teaching methods, as well as for his vast knowledge of martial arts history, philosophy, and principles. He is also well known for his expansive knowledge of the practice of Chi Gong (Ki) and for his unique demonstrations on this subject. The following is a brief listing of various topics and subject matter that he is available to lecture, teach or provide consultation(s) on:
Dan (Black Belt) & Ko Dan Ja (Master Level) Rank Certification &Testing Events
Professional Karate Studio Business Consultations
Business Consultations on Developing and Forming a Martial Arts Organization
Lectures on the Application of Martial Arts Philosophy & Principles in Daily Life & in the Business World
Clinics and Seminars on the Various Physical & Technical Aspects of the Practice of Tang Soo Do (Karate)
Clinics and Seminars on the Application of Various Martial Arts Principles During Physical Practice
Clinics and Seminars on Grandmaster Ah Po's Unique Tang Soo Do Training Curriculum
Clinics and Seminars on Advanced Tang Soo Do Hyong & on Hyong (forms)Training Methods & Approaches
Clinics and Seminars on Advanced Self-Defense & Sparring Techniques
Clinics and Seminars on Unique Methods of Meditation
Clinics and Seminars on Martial Arts Breathing Methods
Clinics and Seminars on Developing a Heightened Levels of Conscious Awareness
Clinics and Seminars on the Practice and Application of Chi Gong (Internal Power)
Participate in Training Camps, Tournaments and other Special Martial Arts Events
Contacting Grandmaster Ah Po
For information on how to engage Grandmaster Ah Po for any of the services listed above please call, e-mail or write to:
Grandmaster Ah Po's Event Coordinator
5504 Oak River Court
Carmichael, CA 95608
P: (916) 487-0544
info@ahpotangsoodo.com
Terms & Conditions
The following represents terms and conditions associated with engaging Grandmaster Ah Po's professional services:
Professional Instruction, Consultation & Service Fees: There are established daily rates depending on the type(s) of services rendered (daily rate includes up to 8 hours of instructional and/or consultation services). Additional discounts are available for multiple day engagements. Daily rates are not applicable for travel days/times. Grandmaster Ah Po is also available (without compensation) for Guest Appearances and Visitations to special martial arts events and activities (see additional information below).
Travel Expenses: All expenses related to air, ground or other modes of transportation to be incurred by client.
Accommodations: All expenses related to hotel accommodations, meals and amenities to be incurred by client.
Miscellaneous Event Expenses: All expenses related to facility rental, and participant training equipment and supplies to be incurred by client.
Insurance Requirements: The client shall be responsible for acquiring appropriate liability insurance for the event or activity that they have engaged Grandmaster Ah Po's professional services for which shall list Grandmaster Ah Po as an "additional insured" on said policy.
Payment Requirements: A non-refundable deposit of $500.00 must be remitted to Grandmaster Ah Po by the client at time of engagement (signing of contract), with the balance to be paid at the conclusion of the event or activity.
Right of Refusal & Protocol Requirements
Grandmaster Ah Po, his authorized agents and the Tang Soo Do Martial Way Assoc., Inc. reserve the right to refuse any of the services described above for any reason that he may deem appropriate.
In addition, all potential clients who are currently under the jurisdiction of an Instructor or Master Instructor or who are members of a martial arts organization that has jurisdiction over them, must first get written consent from their Instructor or the appropriate martial arts organization before they will be allowed to enter into a contractual service agreement with Grandmaster Ah Po.
Special Guest Appearances and Visitations
As previously stated, Grandmaster Ah Po may also be contacted to arrange for guest appearances and visitations to special martial arts events and activities without compensation. However, it should be noted that it is customary for the Invitee in such situations to provide necessary travel, meals, accommodations and amenities for Grandmaster Ah Po.
Tang Soo!
---